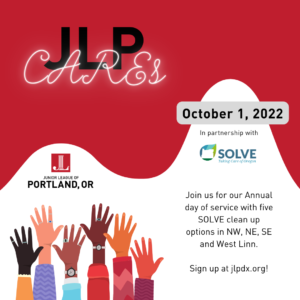 Our annual JLP Community Action and Revitalization Event (JLP CAREs), is one of the League's signature fundraisers and one of our key community volunteer events. On October 1st, Junior League members and non-profit organizations will join together to complete a variety of much needed service projects that directly benefit our local community, in partnership with SOLVE.
We welcome current and prospective members (21+) to sign up for your preferred location! If you are a member wear your red JLP shift & name tag. If not, come as you are, we can't wait to meet you and spend time working in our community together!
Prospective members can sign up for the Mary S Young State park and Concordia Neighborhood locations below.
Public Sign up Links:
Member Sign up links:
Please email volunteer@jlpdx.org with any questions.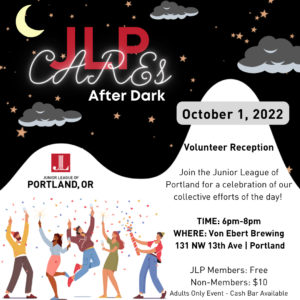 JLP CAREs After Dark
Afterwards, that evening we will gather at Von Ebert Brewing in the Pearl from 6pm-8pm to celebrate our cumulative impact. The evening party is $10 for non-members. You can register here.