2021-2022 League Year 
President: Alex Johnson – president@jlpdx.org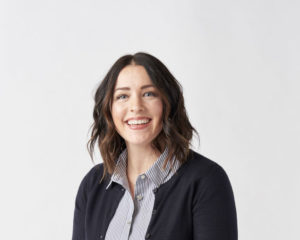 Alex has been a member of the Junior League since 2014 and is serving as President for her fourth year on the Board of Directors. Previously, Alex served as Strategic Vice President and developed the organization's first five-year strategic plan and first annual plan. She went on to serve as Executive Vice President, where she led and successfully channeled day-to-day operations into the strategic vision of the Board of Directors.
Alex is Senior Director of Business Operations & Strategy for Vacasa, North America's largest vacation rental management company. Headquartered in Portland, Vacasa is one of the nation's fastest growing companies, raising more than $526 Million since 2009. Operations is at the core of Vacasa's business model, and much like her work with Junior League, Alex employs innovative and effective business strategies that drive improvement and growth across the organization.
Alex, her husband Philip and children, William, Sawyer, and Lennox live in Tualatin. They love cooking and exploring the wonderful wine of the Willamette Valley. When the PNW weather permits, they can be found biking, hiking, and recently started a garden so that, as William says "they can be farmers." They are excited to start traveling again as soon as possible to show the children the world!
---
Executive Vice President: Jeanie Nguyen – evp@jlpdx.org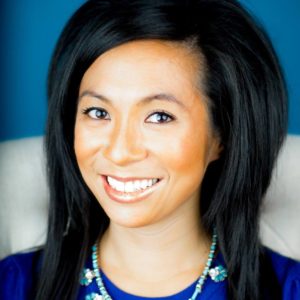 Jeanie Nguyen serves as the Executive Vice President of the Junior League of Portland and oversees the management team and serves on the board of directors. Born and raised in Portland, OR, she has a passion to serve with a lens of diversity, equity and inclusion. Jeanie joined JLP in 2014 and has served in roles including Membership Director, Operations Director, Northwest Exchange Co-chair, Recruitment Chair, and Small Group Leader.
Being a part of JLP has allowed her to try new projects, learn new skills, and streamline processes. Nonprofit work has always been a passion and learning the business and leadership aspects through JLP have been rewarding.
Jeanie graduated from the University of Oregon with a Major in Business (Marketing) and a Minor in Economics. She enjoys travel, fashion, and food! She enjoys spending time in her old craftsman home with her fiance and her dog!
---
Treasurer: Allison Chown – treasurer@jlpdx.org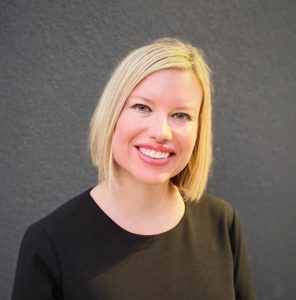 Allison joined the Junior League of Portland in 2016 and has enjoyed the variety of placements she has held in the league. She has served as the Community Council Director, Fund Director, and this year is the Treasurer.
Allison is an esthetician at The Portland Girl and enjoys all things beauty related. She is certified in Reiki, and incorporates energy work into her facials. One of her favorite work responsibilities is training new employees, and being a mentor for them as they learn new skills.
She serves as the Membership Director for the Oregon Women's Sailing Association. She is energized by water and enjoys sailing, surfing, and pretty much anything on or near water. In the winter she enjoys skiing on Mt. Hood. She also has a healthy obsession with golf and her perfect day would include at least 9 holes.
Allison and her husband have two boys (aka Junior League helpers-in-training) and the family always enjoys the opportunity to help the JLP out, and connect with other families.
---
Secretary: Sara Fitzpatrick – Secretary@jlpdx.org
Sara Fitzpatrick is the 2021-2022 Secretary of the Junior League of Portland. Sara was born and raised in the Midwest and moved to Portland five years ago, and has loved every minute! Sara joined JLP in 2017 and has served in many roles within the league, most recently as the Operations Director.
Being new to Portland, Sara wanted to meet new people and garner lifelong friendships. Not only was this accomplished, but she discovered her love of volunteerism and helping our community.
Sara has a masters in Museums Studies and Classical Archaeology. She puts that degree to good use as a Global Product Manager for the Women's Sportswear business at Columbia Sportswear. She couldn't be more grateful for the life she has created for herself out here in the PNW. Adventuring is her favorite activity; as well as baking, singing and traveling.
---
Strategic Vice President: Dr. Ann Bates – strategicvp@jlpdx.org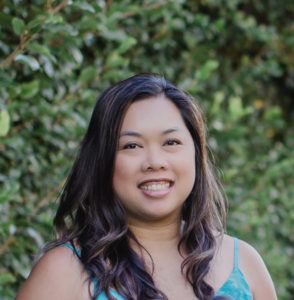 Dr. Ann (Nguyen) Bates (she/her/hers) is Strategic Vice President and oversees the Strategic Council.  A member since 2015, Ann previously served as Fund Development Director, co-chair for the End Domestic Violence and Harvest Soiree committees, and member of the Strategic Planning Committee.  She was co-lead of the Women of Color Affinity Group during its inaugural year.  Her goals are to make the JLP a safe space for women of color, create leadership pathways for women of color, and build a more inclusive league that represents its community.  
Ann is a first-generation Vietnamese-American.  She has a B.S. in Physiology from the University of California, Santa Barbara and a Ph.D. in Molecular, Cellular, and Integrative Physiology from the University of California, Davis.  She taught college biology courses before becoming a stay at home mom to her twins, Alexa and Logan.  Her volunteer work outside of JLP includes advocacy for reproductive rights.  Her family's philanthropy focuses on breaking the cycle of intergenerational poverty.  Ann's hobbies include reading, traveling, and exploring Portland's culinary scene.
---
Development Vice President: Emily Yensen – developmentvp@jlpdx.org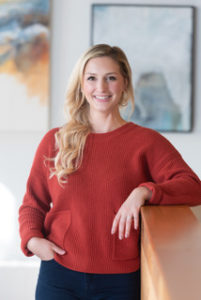 Emily is serving as the Development Vice President for the 2021-22 League year. Being a 7th generation Oregonian, she cares deeply about her local community, and could not wait to get involved with JLP right after college. She has been a JLP member since 2014, and after primarily focusing inward on membership, she is excited to turn her work outwards towards cultivating and stewarding donors. She is well equipped for this new challenge after receiving her Certificate in NonProfit Fundraising through PSU in 2015 and is looking forward to putting that learning into action.
Emily has been a Realtor in the local residential market since 2016 — a job she loves because she gets to spend time with people and tour beautiful homes. She and her family also recently bought a vineyard, so she has been learning how to create and grow a business from scratch. But her most favorite job is being a new mom! In February of this year Emily and her husband, Zac, had their first child, Archer — an 8th generation Oregonian!
---
Nominating Vice President: Lisa Steenson – nominatingvp@jlpdx.org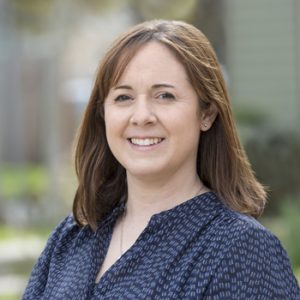 Lisa Steenson has been a member of the Junior League of Portland since 2011. She has served on Donor Relations, Stop Human Trafficking, Strategic Planning, Development VP and supported a number of events committees. 
Lisa has a Bachelor of Science degree in Public Health and Education from Oregon State University, and is a non-profit leader with extensive experience, including: Associate Executive Director of the University YMCA in Seattle, Executive Director of The NOAH Center, and most recently Capital Campaign Officer for Community Vision. Currently, she serves as the Resource Development Director for Bridge Meadows. Lisa lives in West Linn with her husband River and their two boys Parker and Fischer.
---
Board Assistant: Ashley Light – boardassistant@jlpdx.org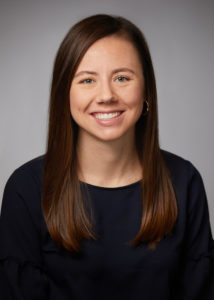 Ashley Light has been a member of the Junior League of Portland since 2020. She transferred from Junior League of Sarasota, where she joined the League in 2014, and served on the Management Team as the Vice President Records Management and Vice President Community Council and previously served as Fund Development Chair, Hunger Outreach Chair, and on Done in a Day Committee. Ashley is excited about serving as the Board Assistant and getting to learn about the Board's leadership and connect with the members in the League.
Professionally, Ashley is the Development Director of UKANDU, a local nonprofit that provides hope, joy, and connection to families impacted by childhood and adolescent cancer. She is a Certified Fund Raising Executive (CFRE) and brings a wealth of fundraising and marketing experience to the League. She serves on the board of the Association of Fundraising Professionals Oregon & Southwest Washington Chapter as the Vice President of Programming.
Ashley absolutely loves exploring the great outdoors of the Pacific Northwest and can be found exploring trails and restaurants.
---
Sustainer Representative to the Board: Judy Jorgensen – sustainer@jlpdx.org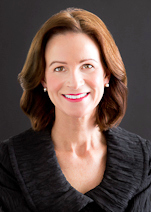 Judy Jorgensen serves as the Board of Directors' Sustainer Representative. She has been a member of four Junior Leagues, starting with the Junior League of New York City in 1989. She joined the Junior League of Portland in 2018 as a transfer from San Jose.
Judy is a former president of The Junior League of San Francisco. She has served on the boards of numerous nonprofit organizations including the Association of Junior Leagues International, the Junior Leagues of New York City and San Jose, San Francisco Symphony, International Museum of Women, and Arthritis Foundation Northern California Chapter.  
Her professional career spans more than 30 years in communications and nonprofit executive roles. She has held management-level positions with major publishing companies, a national trade association and a worldwide independent public relations agency. Most recently she was Executive Director of the Arthritis Foundation's Oregon and SW Washington office.
Judy holds a BA degree in Comparative Literature from Occidental College and an MS in Journalism from Northwestern University. She and her husband, Greg, a technology marketing executive, live in Tigard.
---