2023-2024 League Year 
President: Jeanie Nguyen – president@jlpdx.org
Jeanie Nguyen serves as the President of the Junior League of Portland and is the first woman of color to do so in 114 years. Born and raised in Portland, OR, she has a passion to serve within the organization and our community with a lens of diversity, equity and inclusion. Jeanie joined JLP in 2014 and has served in roles including Executive Vice President, Membership Director, Operations Director, Northwest Exchange Co-chair, Recruitment Chair, and Small Group Leader. Being a part of JLP has allowed her to try new projects, learn new skills, and streamline processes. Her favorite project to date in the league was spearheading the 2020 Virtual Excellence series with nearly 2 dozen virtual programs to support our members, this program was recognized by AJLI during a conference. She curated topics, lined up speakers, emceed the events and created the marketing programs. Nonprofit work has always been a passion and learning the business and leadership aspects through JLP have been rewarding.
Other nonprofits she has been involved in include: Asian American Town; Pen and Napkin; and Girls on the Run. Jeanie graduated from the University of Oregon with a Major in Business (Marketing) and a Minor in Economics. Professionally she's a National Account Manager for Central Garden and Pet and thrives in a sales environment. On a personal note, she enjoys travel, fashion, and food! She enjoys spending time in her old craftsman home with her husband and her dog!
#WhyIJL: I joined JLP to make connections with women who were in alignment with my passions of personal development and growth as well as those looking to make an impact in the city of Portland.
---
Executive Vice President: Georgia Prim – evp@jlpdx.org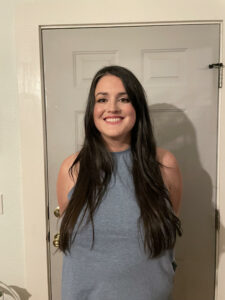 Georgia joined the Junior League of Portland in 2014 and has since served in roles across our League including: Stop Human Trafficking Committee (member), Civic Engagement SPAC (chair-elect),  New Member Small Group Leader, Community Director, Strategic Planning Committee (member, chair), and Executive Vice President on our Board.
#WhyIJL: I joined the League to meet more people in our community while giving back to this city I've come to love and call home. 
---
Secretary: Diana Harmon – Secretary@jlpdx.org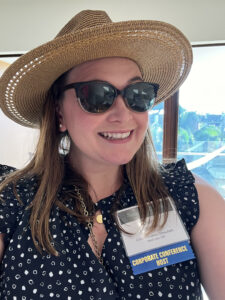 Diana joined the Junior League of Portland in 2019 and has served our League in the following roles: End Domestic Violence (co-chair, chair), Human Resources Director, and Board Secretary.
#WhyIJL: I joined the league because I wanted to get reconnected to community service. I was working from home (since 2016 and before it was cool) and wanted to meet awesome women in my community.
---
Treasurer: Pleschette Fontenet – treasurer@jlpdx.org
Pleschette has been a member of the Junior League of Portland, since 2015. She has served as a Small Group Leader, Assistant Chair for Community Connections, two terms as Membership Director, Nominating Committee, two terms as Treasurer, and the BIPOC Racial Justice Committee. She participates in board service with Friends of the Children, Friends of the Columbia Gorge, the Ronald McDonald House Charities of Oregon & SW Washington, and she is a Trustee on the Legacy Health's Good Samaritan Foundation Board serving on the grants committee. In her professional life, she is a Regional Sales Director for Lenovo, and has spent over 20 years in the technology sector.
She leads a team that is responsible for providing advanced computing to large K-12 Districts. She loves the Pacific Northwest and all the beauty it has to offer. Her hobbies include traveling, hiking, reading, wine tasting, exploring new restaurants, and nurturing life-giving relationships.
#WhyIJL: I joined the league to learn more about the community needs of my new city through volunteering, and I had an interest in meeting others. I moved here with a remote position and worked from home. 
---
Member Experience Vice President: Bee Talmadge – membershipvp@jlpdx.org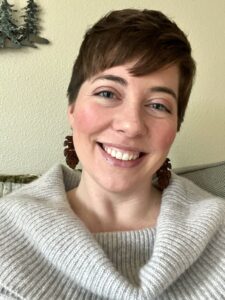 Bee Talmadge joined JLP in 2017 and has held positions as Technology Co-Chair (2 years), MarCom Committee member, BIPOC Racial Justice Special Committee (BIPOCRJSC) member, Operations Director, and Membership Director. Her experience includes: leading the League's efforts in bringing the General Membership Meetings (GMMs) to a virtual platform in 2018, representing the League at public-facing nonprofit information fairs and events, assisting in the setup of fundraising events, and supporting the past communications and program curation of the BIPOCRJSC.
Bee endeavors to increase the approachability of participation for League members by leveraging technology to improve inclusiveness and belonging for all members.
#WhyIJL: I joined the League during a year of change in my community work. I was seeking to belong to an organization that allowed me to meet professionals in other industries, learn new skills, and impact the community in a positive way. The League has offered that and more.
---
Community Vice President: Alexia Wellons – communityvp@jlpdx.org
Alexia joined the Junior League of Portland in 2015 and has served our League in the following roles: Marketing and communications (member), Gingerbread Jamboree Committee (member), Volunteer in Portland (vice chair, chair), Program Research and Development (chair), Advocacy AdHoc Committee, and Community Vice President.
#WhyIJL: I joined the League in order to meet new people and learn more about Portland. I was inspired by the Junior League groups I'd seen while living in Pasadena, California and Reno, Nevada.
---
Development Vice President: Veronica Ocejo-Johnson – developmentvp@jlpdx.org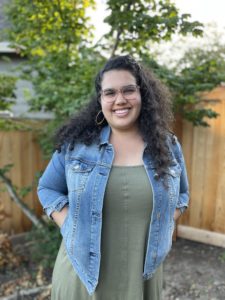 Veronica has been a member of the Junior League since 2015. Always up for learning something new, Veronica has spent time on many different committees at the League including Rose City Summit, BIPOC Racial Justice Committee and most recently as the Fund Development Director. She finds it rewarding to teach others about fundraising and its impact. Another nonprofit organization Veronica donates her time to is Equitable Giving Circle. Weekly she delivers farm boxes to BIPOC community members in the Metro area. 
When she isn't volunteering, Veronica works full-time as a real estate broker for Living Room Realty in Portland. She loves helping people achieve their real estate goals, empowering and educating her clients along the way. Meeting new people and solving problems on their behalf is what she does best!
Every morning you'll find Veronica walking her trusty good boy, Poco, around her neighborhood. Poco and Veronica spend most of the time admiring their shared love Veronica's husband, Ben.
#WhyIJL: I initially joined the League because I wanted to give back to my community in a meaningful way. I kept meeting women in my industry and are who were in the Junior League. They were incredibly smart, kind and generous people so I just had to find out more!
---
Board Assistant: Carrie Noble – boardassistant@jlpdx.org
Carrie joined the Junior League of Portland in 2016 and has served our League in the following roles: Learning and Development (member), Northwest Exchange Committee (member), Rose City Summitt (chair), New Member Small Group Leader, DEI Committee (member), and as Assistant to the Board.
#WhyIJL: TBD
---
Sustainer Representative to the Board: Tina Romine – sustainer@jlpdx.org
Tina Romine has been a member of the Junior League since 2004 and looks forward to serving the Junior League of Portland as Board of Directors' Sustainer Representative. She first joined the Junior League of Charlotte, NC (2004) and then transferred to the Junior League of San Francisco (2011) prior to making Portland home in 2016. Her volunteer leadership includes serving on the boards of three Junior Leagues as well as the Johnston YMCA of Charlotte and Ninety-nine Girlfriends (Portland).
#WhyIJL: I joined the league after learning about it from a friend and because I was interested in volunteering, learning and leadership opportunities that were offered.
---