2016-2017 League Year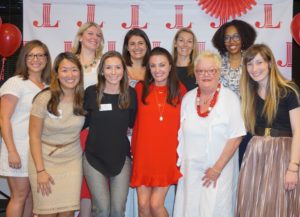 President – KaDo Gorman
KaDo Gorman, President, is entering her seventh active year with JLP after transferring from the Los Angeles league. Last year she served as the President-Elect and as the Fund Development Vice President the year prior.  She previously served on the JLP CAREs Committee for two years and Co-Chaired Recruitment.
A native Pacific Northwesterner, she moved to Los Angeles to attend UCLA where she earned her BA in English Literature with a Minor in Native American Studies. After many years in Los Angeles, she moved back to Portland to be closer to her family where she and her husband are currently busy raising their two sons. KaDo recently took a position at the French American International School as the Parent & Alumni Relations Manager.
She served three plus years as the Foundation Vice President for the Portland Suburban Delta Gamma Alumni Chapter working with a number of different philanthropic organizations locally and nationally to provide volunteer opportunities in the Portland community. KaDo has also served on the UCLA Alumni of Oregon Board as the Marketing and PR Chair and most recently the Community Service Chair.
When not chasing little boys or volunteering, she enjoys long runs, yoga, live music, traveling, reading, photography and spending time with family and friends. The Junior League of Portland has provided her with so many opportunities to meet people and foster meaningful relationships within the organization and the community.
President-Elect – Sarah Burns
Sarah Burns has been involved with Junior League of Portland since 2011.  Her JLP involvement has centered around the Membership Council beginning as a Small Group Leader, then co-assistant chair and then chair, during which time the committee successfully implemented a new Provisional program.   Sarah grew up in Olympia, WA and attended the University of Southern California where she earned a degree in Humanities and Music Performance.  She has worked as a real estate broker in the Portland metro area since 2007.  Sarah is a trained opera singer and sang in the Portland Opera Chorus from 2006 to 2014.  In her spare time, she loves going on neighborhood walks with her dog and husband, cooking for friends and family, and enjoying all that Portland has to offer.
Executive Vice President – Regina Wheeler
Regina Wheeler, Executive Vice President, is in her sixth year in the League and her second as a member of the Board of Directors.  She most recently served as the Community Development Vice President and previously held positions on the Stop Human Trafficking and Trainings committees.  In previous volunteer experiences, Regina has worked with organizations that promote literacy and affordable housing. Regina attended the University of Oregon (Go Ducks!) and works in program evaluation where she applies social science research methods to assess the effectiveness of education and social service programs.  In her spare time, she enjoys playing tennis, skiing, rooting on her favorite sports teams, starting—but not always finishing—craft projects and schooling her husband in cribbage.  She has loved her time as a member of the Junior League of Portland and looks forward to another year on the Board.
Finance Vice President – Carsolina Walton
Fund Development Vice President – Tina Penman
Tina Penman, Fund Development Vice President, is entering her 6th active year in the Junior League of Portland.  Since she joined in 2009, she has served as Administrative Vice President, Recruitment Chair, Northwest Exchange Chair, League Sales Chair, and Small Group Leader.  Tina has her Clinical Doctorate in Audiology and she finds it rewarding to help others hear and communicate better with friends and family.  Her hobbies include indoor and outdoor cycling, teaching others, learning new things, and adventuring with her fiancé and friends!
Membership Vice President – Jessica Richey
Jessica Richey, Membership Council Vice President, has been a member of The Junior League of Portland since 2013. Jessica has previously served as chair of the Member Connections Committee and as a small group leader within the Provisional Committee. She is a member of the JLP group participating in the Association of Junior Leagues International Membership Rollout. Jessica is thrilled to take on her first non-profit board position and to continue to serve JLP and the Portland community.
Jessica is originally from Tucson, Arizona and moved to Oregon during her high school years. She attended Linfield College and received her bachelor's degree in Finance. After graduation,, Jessica obtained the Certified Financial Planning designation and now works as an advisor for Vista Capital Partners. She is also a member of the Financial Planning Association of Oregon/SW Washington.
In her spare time, Jessica enjoys spending time with her loved ones, breaking a sweat in a spin or barre class, and exploring all the fun activities Portland and the Northwest have to offer.
Administrative Vice President – Alison Freidman
Alison Friedman, Administrative Vice President, is entering her fifth active year in Junior League and second year on the board of directors. Alison has previously served as a member of the membership council, as assistant-chair of the JLP Cares committee, and most recently as interim administrative vice president.
Alison earned her degree in accountancy with an emphasis in finance and real estate from the University of San Diego. After college, she moved back to the Northwest and eventually settled in Portland, where she works for a small equipment financing company as the Director of Operations.
Beyond volunteering for the Junior League, Alison enjoys being active, cooking and traveling. You can often find her walking around the Pearl District with her husband Josh and dog Ace.
Community Vice President – Gina Ambrose
Gina Ambrose, Vice President of Community Development, is delighted to be serving her first year on the board of directors. During her four year tenure within the league, she has served within the Membership Council as a Small Group Leader, as well as Assistant Chair and Chair of our Volunteering Committee within the Community Development Council.
Gina proudly hails from the great state of Iowa and attended Iowa State University where she received her B.S. in Marketing, International Business and French. During her senior year, Gina interned with her dream company, Nike, an opportunity she emphatically described in her interview as "her destiny". She is still employed by Nike today as a Merchandise Manager for Men's Training products in the Emerging Markets division.
In her free time, Gina has a passion for fashion and loves to sewing her own clothing. She also can be found outside training for an upcoming marathon or relay race. She also enjoys spending her time personalizing her first home, featured on the HGTV program, "House Hunters".
Passionate about volunteering and positively impacting the lives of those in the community, Gina chose to join the Junior League of Portland because the Community Organizations and causes we partner with aligned closely with her values.
League Development Vice President – Leanna Petrone
Leanna Petrone, League Development Vice President, is in her fifth Active year in the league and first year on the Board of Directors. Leanna has previously served as a Small Group Leader on the Membership Council, as Co-Chair of the Recruitment Committee for two years, and most recently as the Marketing and Communications Chair.
In previous volunteer roles Leanna served as charity Marathon runner and mentor for the Leukemia, Lymphoma and American Cancer Societies in New York City. She was also an active member of the professional organization Women for Success benefiting Oregon's Dress for Success providing training and business attire to women reentering the workforce.
Leanna is a full time mom to a young daughter and a Rodan + Fields skincare business owner. Her professional experience includes nearly a decade as a New York City fashion designer and upon returning to Oregon Leanna had a successful boutique of her own in the Pearl.
She finds balance through her love of physical activity, and enjoys her daily workouts of biking, running, yoga, barre, and her newest passion Zumba! Leanna is driven by the joy of the constant chasing of an active toddler, the support from of her "partner in crime" husband and fulfillment she gets from her dedication to the Junior League of Portland!
Sustainer Representative – Gretchen Pilip