Tenth Annual Gingerbread Jamboree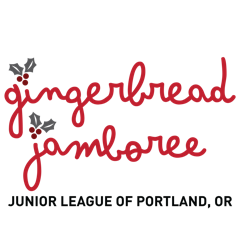 The Tenth Annual Gingerbread Jamboree will be a completely virtual event, transporting the beloved Gingerbread Jamboree experience to our guests at home.  In lieu of gathering together, we are selling curated gingerbread decorating kits to be delivered to your home via a network of volunteer elves on Saturday, December 11th, 2021.  Virtual meet-and-greets with Santa, Elsa and Anna will be scheduled for Sunday, December 12th, 2021. This flexible format allows for activities to be done any time after the kit is received.
Gingerbread Jamboree is an annual fundraiser for the Junior League of Portland, with all net proceeds supporting our Mission of promoting voluntarism, developing the potential of women, and improving communities through the effective action and leadership of trained volunteers.  Each year, the Junior League of Portland also sponsors families in need to participate and create priceless memories during the holiday season.  With each kit purchased, you are helping to support our efforts working to end the cycle of violence against women and children.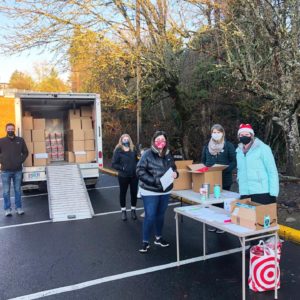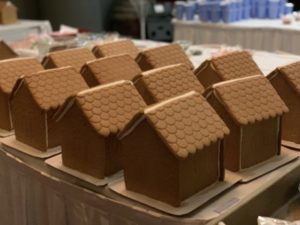 FAQ- Frequently Asked Questions
I have more than one child or one friend that wants to decorate a house too! What can I do? 
Easy! Simply choose the type of kit you are looking for with the Extra House option! This comes with your chosen kit plus an extra stock gingerbread house for $18 more. Please note the extra house does not come with the treats, snacks and activities that are included in the selected kit.
I purchased a Classic Kit and my child wants to meet Santa or Anna and Elsa on Zoom. What should I know?
If your child or children want a zoom visit from Father Christmas or the Frozen ladies, please select the Classic Kit and then select your chosen option from the dropdown at checkout! This is included in your purchase! We will note your choice and reach out by email one to two weeks before the Zoom to confirm and give you more details. Virtual meet-and-greets will take place on Sunday, December 12th, 2021. Due to Santa and Anna and Elsa being in high demand, there will be a 2 hour window on the chosen day to sign up for times and we can only allot 2-3 minutes per family for the visit.
I am the best friend/family member/boss ever and want to order multiple kits to be delivered all over town. What should I do?
Unfortunately our platform will only allow you to send each order to one address so if you are ordering multiple kits for multiple people, you will need to create a separate order for each address you want a kit delivered to. Please ensure you have the delivery address correct and the name of the person it should be addressed to. Also, please include your own contact info so we can reach out if we have questions! For over 5 separate orders, please reach out directly to 
gingerbread@jlpdx.org
.
What safety measures have you put in place?
We are very aware that COVID-19 remains a risk so to ensure the health and safety of all of our volunteers and supporters, we have included pre-packaged treats and snacks inside kits that have been assembled using the utmost safety measures. All volunteers will be wearing masks, equipped with hand sanitizer and there will be no-contact delivery for kits.
Speaking of delivery, I live in an apartment or gated community – can you deliver to me? 
Of course! Please note any special delivery instructions when you check out in the box provided (ex. door code, gate code, special instructions etc.) Also, make sure you alert your building or whoever is necessary on December 11th that you will be getting a special delivery!
How do I know when my awesome kit has been delivered?
Our amazing contingent of delivery elves will leave your kit on your porch or doorstep between the hours of 9:00AM to 5:00PM on Saturday December 11th. You do not have to be home to receive it! We will text a picture of the delivery to you once it is complete. If anything amiss, please feel free to reach out to the person who delivered it so we can make it right. Contact 
gingerbread@jlpdx.org
with any questions or concerns.
I'm not that into making Gingerbread Houses but I still want to support the Junior League of Portland. How can I help?
Thank you for your support! We have the option of buying a Kit that we will donate to our community partners for families in need. Simply add the "Donate a Kit" to your cart and we will take care of the rest! We also have the option to donate directly to JLPDX! Simply click the "Donate to the Junior League of Portland" and select the amount you wish to donate.
Do I get to write this purchase off since you are a non-profit?
Part of it- yes! While you are receiving some goods and services from your purchase, we have determined the fair market value of the kits and the additional money paid is tax-deductible. You will receive an email after you purchase indicating what the fair market value and tax deductible total of your purchase are.
Additional Questions?
Please contact us at  gingerbread@jlpdx.org ! We look forward to hearing from you.