Are You Unstoppable?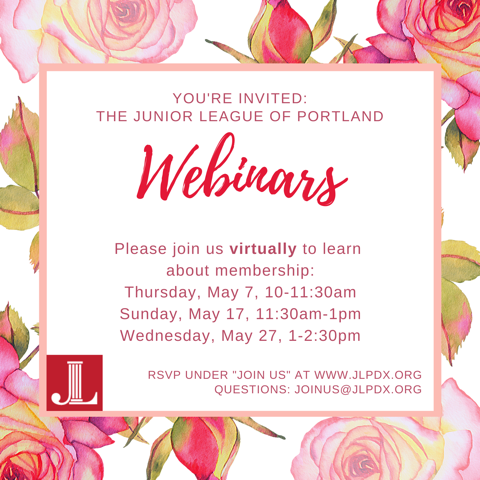 Determined. Impactful. Unstoppable. Words synonymous with the Junior League of Portland. We are an organization that empowers women to lead by tackling issues impacting our community. Are you interested in learning more about the Junior League of Portland and how you can make a difference in our community? Join us at one of our upcoming events to learn about membership. You are encouraged to attend an open house prior to submitting an application.
Please note: Due to COVID-19 guidelines, our Informational Open Houses will now take place digitally via webinar until further notice. Please register below:
Questions? Email joinus@jlpdx.org.
About the Junior League of Portland
In 1910, Gretchen Corbett convinced her sewing group and other friends to join her in founding the Junior League of Portland. As an original member of the first Junior League in New York City in 1901, Gretchen knew the rapidly growing Portland community would also need a group of trained women volunteers to address issues in the community as they arose.
Today, the Junior League of Portland (JLP) is the fourth oldest League in the Association of Junior Leagues International (AJLI) and the first on the west coast. Since that time, JLP has provided countless volunteer hours to improving the community, launched much needed programs and initiatives to protect the underserved, and prepared generations of local women for a lifetime of civic leadership.We are devoted to:
Effecting change within our communities
Training and developing civic leaders
Promoting voluntarism
We warmly welcome women of all races, religions, and national origins who demonstrate an interest in voluntarism, a commitment to community service, and an interest in developing their potential to better serve the Portland community.