PPE by JLP – COVID-19 Response Project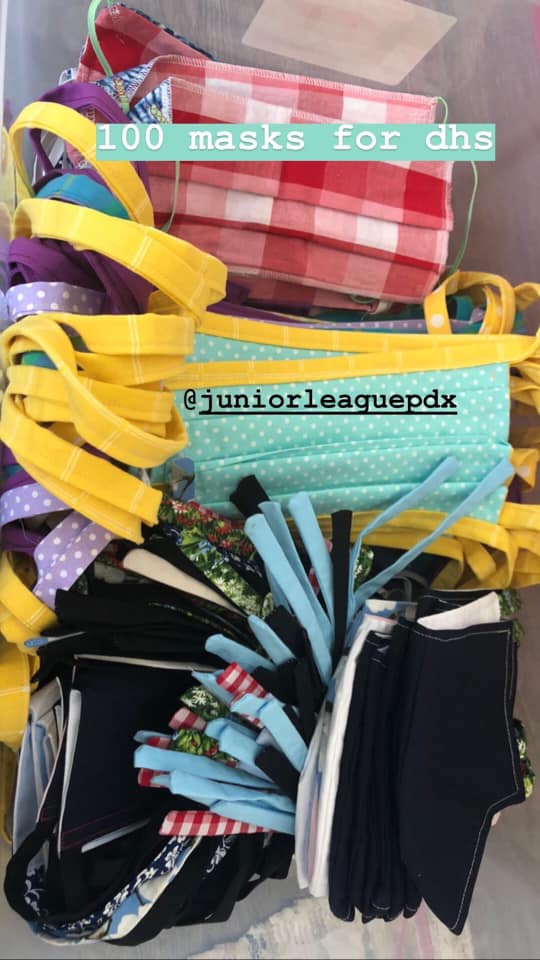 In response to the COVID-19 pandemic, this past March the Junior League of Portland mobilized to launch PPE by JLP. This project recruited volunteers within our community (members and non-members) to produce NON-OFFICIAL personal protective equipment (PPE) in the form of face masks. (Homemade masks are not considered official "PPE" for use in medical situations.) Completed face masks were  distributed to Department of Human Services workers and healthcare professionals in need of cloth masks during the COVID-19 pandemic. As of June, the Junior League of Portland surpassed its goal of sourcing and creating 300+ masks for essential care workers. These individuals were selected for receipt due to their continued  risk of exposure while working to end the cycle of violence against women and children in Portland.
PPE by JLP was informed by our deep history of community organizing during difficult times and responding to support vulnerable populations and organizations in need. Through this initiative we strove to fulfill a need which was presented to us. Our project was also recognized by AJLI's President Bett Williams in a webinar for our recent community efforts, so thank you so much to all who participated in getting masks and protective equipment out to vulnerable members of our community!
Though PPE by JLP has officially ended, you can still support this project's goals by making masks for those in need. Below are tutorials to help guide your mask-making.
Tutorials:
Medical Masks:
Fabric Filter Masks:
No-Sew Masks: 
For those of you who have access to a 3D printer and/or a Roomba 700 series HEPA filter,
JLP was proud to partner with and serve our community in this time of great need. The League extends its wishes for the health and safety of all citizens during these challenging times. It is by caring for others, and working together toward the greater good that we will emerge stronger than before.
If you have questions or suggestions for organizations that you can deliver your completed masks to, please contact us at covidresponse@jlpdx.org. Please note that due to the project's conclusion, response time may lag.