Stop Human Trafficking Essentials Drive
For the tenth year, the Junior League of Portland is holding an annual Essentials Drive (formerly known as Delicates Drive), collecting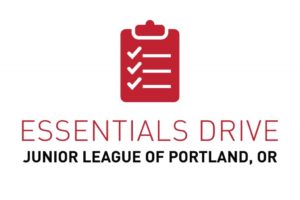 undergarments, toiletries, and other supplies for survivors of human trafficking. 
The Junior League of Portland encourages you to join us in supporting survivors of human trafficking through our Essentials Drive. Over the next few months, we are working towards a goal of collecting at least 5,000 new toiletries and undergarments of any kind (bras, underwear, boxers, camisoles, tank tops, socks), any size, and for any gender.
The Essentials Drive, held from January 2022- February 2022, focuses on undergarments because individuals fleeing trafficking environments are often asked to surrender these items as evidence. Once safe they may not have the resources to purchase new items or additional essentials, like toiletries. The Junior League of Portland will distribute donations to a selection of partner organizations which provide immediate and long-term care, such as Rose Haven and New Avenues for Youth.
In response to the changing environment and challenges of Covid-19 we are making digital donations as easy as we can. For your convenience, wish lists with suggested garments or items for purchase are available through the following links and are shipped directly to the Junior League:
Our preference is in-kind donations via our wishlists, however money can be donated directly to our General Fund and earmarked for the "Essentials Drive" in the "Comments" section on the second page of the donation transaction. 
For any additional questions or inquiries please reach out to StopHumanTrafficking@jlpdx.org.