2021-2022 League Year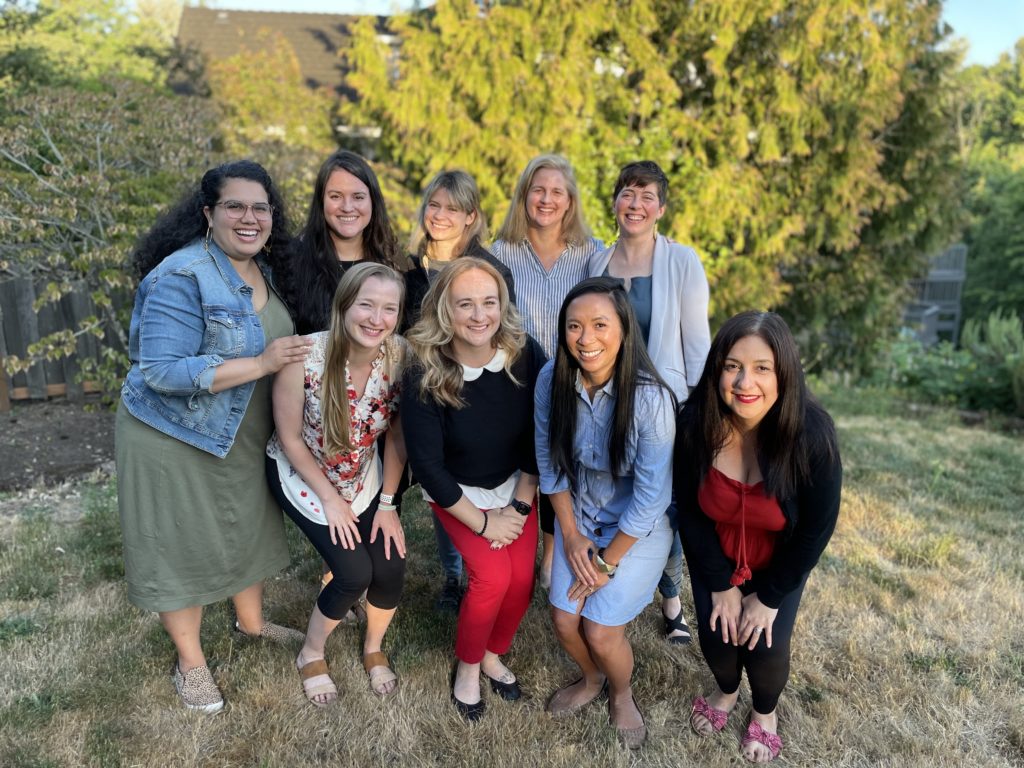 Executive Vice President: Jeanie Nguyen – evp@jlpdx.org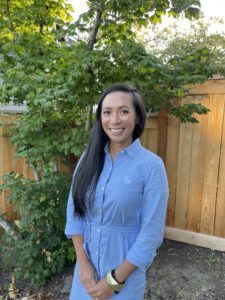 Jeanie Nguyen serves as the Executive Vice President of the Junior League of Portland and oversees the management team and serves on the board of directors. Born and raised in Portland, OR, she has a passion to serve with a lens of diversity, equity and inclusion. Jeanie joined JLP in 2014 and has served in roles including Membership Director, Operations Director, Northwest Exchange Co-chair, Recruitment Chair, and Small Group Leader.
Being a part of JLP has allowed her to try new projects, learn new skills, and streamline processes. Nonprofit work has always been a passion and learning the business and leadership aspects through JLP have been rewarding.
Jeanie graduated from the University of Oregon with a Major in Business (Marketing) and a Minor in Economics. She enjoys travel, fashion, and food! She enjoys spending time in her old craftsman home with her fiance and her dog!
---
Human Resources Director: Jennifer Mansfield-Lucas – hr@jlpdx.org
Jennifer Mansfield-Lucas serves as the Junior League of Portland's Human Resources Director for the 2021-2022 league year. Jennifer has worked in the HR field for over 10 years with a focus on data/analytics and is excited to join her fellow members on the Management Team. She has been a member of JLP since 2018 serving on the Provisional Committee as a Vice-Chair and Active Advisor.  
Jennifer is a native of Portland and attended Portland State University, graduating with a Bachelor of Arts in Liberal Studies with the hopes of becoming an elementary school teacher.  Jennifer joined the league to demonstrate to her 2 children the importance of giving back to our community.  
When not participating in league activities you can find Jennifer supporting her kids who play soccer and softball.  Jennifer also enjoys having cooking competitions with her husband and reading mystery books.  Even though Jennifer is a native of Oregon there are so many places she hasn't had an opportunity to see.  If you have any favorite recommendations, please pass along.
---
Membership Director: Lindsay Schlobohm – membership@jlpdx.org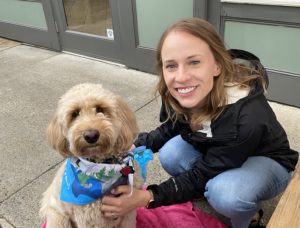 Lindsay Schlobohm is excited to serve as the 2021-2022 Junior League of Portland Membership Director. She is a Pacific Northwest native, moving from Seattle to Portland in 2016. Lindsay joined the League as a way to feel included in her new community. Since then, Lindsay has done a little bit of everything: recruiting new members, chairing a benefit auction, serving on the strategic committee, and volunteering in the community.
Professionally, Lindsay graduated from Washington State with a degree in neuroscience in 2012, and with her Doctorate of Audiology from the University of Washington in 2017. She currently works with children that are deaf and hard of hearing at the non-profit school, Tucker Maxon, as their staff educational pediatric audiologist.
In her spare time, Lindsay can be found walking her dog (Emma), spending time in wine country, or curled up on the couch with a book.
---
Finance Director: Natalie Ballas – finance@jlpdx.org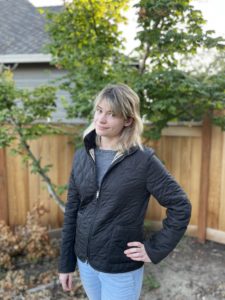 Natalie has been a member of the Junior League of Portland since 2013 and is honored to serve on the Management team for the 2021-2022 League year. Originally from Morgantown, West Virginia, Natalie moved to Portland in early 2013. She joined the League soon after her move in order to give back to her new community in a meaningful way. Prior to her current position as Finance Director, she has served on the Marketing and Communications Committee both as a committee member and Chair, as Assistant Chair of Recruitment, on the Placement Committee, and on the Management Team as Information Director. Most recently, she served on the Board of Directors as Executive Vice President.
Professionally, Natalie has a bachelor's degree in Biomedical Engineering from Case Western Reserve University and a Doctorate of Dental Surgery from West Virginia university. She has owned a dental practice in Canby, Oregon since 2015 and enjoys being able to combine her engineering and dental knowledge by incorporating 3D printing and CAD/CAM technology into her practice.
When she is not volunteering or practicing dentistry, she enjoys spending time at home with her husband, three labrador retriever mixes, and two cats. She and her husband are also automotive enthusiasts, and can often be found on drives exploring Oregon and SW Washington on the weekends. 
---
Fund Development Director: Veronica Ocejo-Johnson – fund@jlpdx.org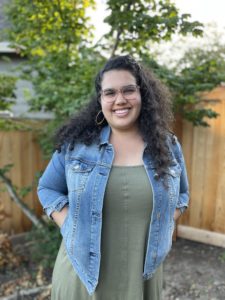 ---
Community Director: Georgia Prim – community@jlpdx.org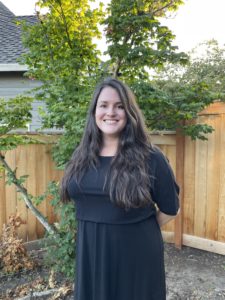 Georgia joined the Junior League of Portland in 2014. During her time in the league, she has been most active in our stop human trafficking efforts; co-chairing the Civic Engagement committee and SPAC. As Community Director, she aims to grow the league's presence and impact in Portland. She envisions the league stepping back into public action and advocacy again – knowing that this work can lead to powerful change. She cherishes the relationships she made in the league and the lasting impact of working with inspiring, female leaders.
Georgia graduated from Emory University with a degree in sociology and religion, and received her J.D. from Lewis & Clark Law School. Currently, she works for lululemon on the innovation team. In her spare time, she is a brand + strategy consultant for local small businesses. She also enjoys cooking, photography, and exploring the Pacific Northwest with her fiance, Aaron.
---
Information Director: Briana "Bri" Jackucewicz – info@jlpdx.org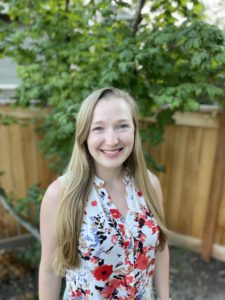 Bri has been a member of the Junior League of Portland since 2017 and is honored to serve her first year on the Management Team as Information Director. She has focused her time in the League on Marketing & Communications, serving as a committee member and most recently two years as Chair. She is grateful to JLP for awarding her "Volunteer of the Year" in 2019-'20 and for all the friendships, volunteer and learning opportunities she has gained along the way.
She is originally from New Jersey and earned her undergraduate degree in Economics from Harvard in 2013. Bri moved to Portland in 2016 from San Francisco to work at Nike, and is now a Lead Product Manager on the Nike Run Club and Nike Training Club fitness apps. She and her husband, Eric, love exploring the PNW and all the food, wine, camping and hiking it has to offer with their two dogs, Sadie and Chase.
---
Operations Director: Bee Talmadge – operations@jlpdx.org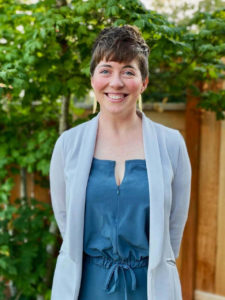 Bee Talmadge is the Junior League of Portland's Operations Director for the 2021-2022 League year. She joined JLP in 2017 and has held positions as Technology Co-Chair (2 years), MarCom Committee member, and BIPOC Racial Justice Special Committee (BIPOCRJSC) member. Her experience includes: leading the League's efforts in bringing the General Membership Meetings (GMMs) to a virtual platform in 2018, representing the League at public-facing nonprofit information fairs and events, assisting in the setup of fundraising events, and supporting the past communications and program curation of the BIPOCRJSC. Bee endeavors to increase the approachability of participation for League members by leveraging technology to improve inclusiveness and belonging for all members.
Professionally, Bee has nearly a decade of catering and events experience. As a result of the pandemic, Bee has pivoted into the tech industry and sells risk and compliance Software as a Service (SaaS). She is an avid cook, Oregon Master Gardener, artist, and tech nerd. She lives in SE Portland with her partner Kevin and their cat Bonsai.
---
Assistant: Melissa Carrera – mgmtassistant@jlpdx.org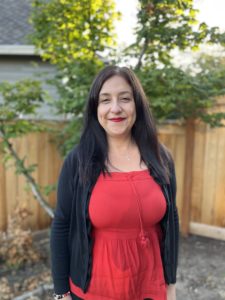 Melissa Carrera (She/Her) is the Assistant to the Management Team for 2021-2022. In her third active year, she is honored to support our management team, continuing to evolve in her leadership skills. Her passion for DEI efforts and her marketing skills have led her to her previous two committees, DEI and MarCom.
Professionally, Melissa is the Supervisor of Corporate Communications & Training for a specialty pharmacy. She is responsible for leading internal communication, engagement, and training strategies. She helped launch her company's first Employee Resource Group, focused on DEI.
One of her passions is organ donation. She is part of WoMen Encouraging Living Donation for Donate Life Northwest. The group is made up of all living kidney donors and hopes to encourage others to do the same. Melissa dreams of traveling again and will be in Tulum this Fall. She lives with her partner, KD, soon to be wife and with her two pups, Binx and Sam.
---
Sustainer Representative to the Management Team: Barbra Jorgensen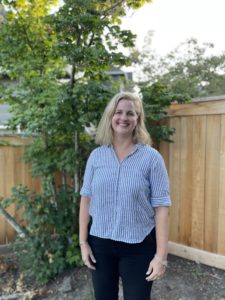 ---