2022-2023 League Year
Executive Vice President: Allison Chown– evp@jlpdx.org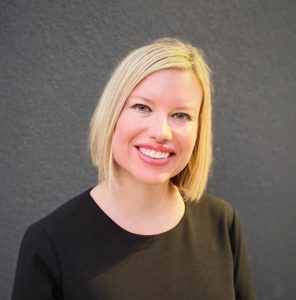 Allison joined the Junior League of Portland in 2016 and has enjoyed the variety of placements she has held in the league. She has served as the Treasurer, Community Council Director, Fund Director, League Sales Chair, and Member Connections Committee member.
Allison is an Jill-of-all-trades. She is currently working as a substitute teacher. She practices painting and ceramics. She is also a licensed esthetician, with Reiki training.
She serves as the Vice Commodore for the Oregon Women's Sailing Association. She is energized by water and enjoys sailing, surfing, and pretty much anything on or near water. In the winter she enjoys skiing on Mt. Hood. She also has a healthy obsession with golf and her perfect day would include at least 9 holes.
Allison and her husband have two boys (aka Junior League helpers-in-training) and the family always enjoys the opportunity to help the JLP out, and connect with other families.
---
Human Resources Director: Diana Harmon – hr@jlpdx.org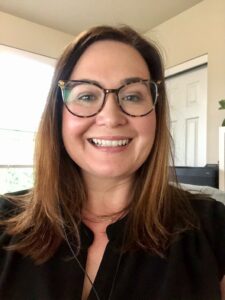 Diana has been a member of the Junior League of Portland since 2019. She currently serves as HR Director, leading the Learning & Development, Member Connection and Placement and Engagement Committees. Diana previously served as Co-chair and then Chair of the End Domestic Violence Committee, Assistant to the Management team and led the most recent Issue Based Community Impact (IBCI) ad-hoc committee in the selection of our newest focus area, climate justice. 
Professionally, Diana leads the communication efforts for over 2,000 financial advisors as part of the Distribution channel for Thrivent Financial. She has over 17 years experience in the financial services sector, serving in  various marketing and communications roles for Prudential and Wells Fargo. Diana holds a Master of Business Administration from Portland State University and a BS in Business Administration from Southern Oregon University.
Originally from Boulder, Colorado she has lived in the Portland area since 2005. In her spare time, she can be found knitting, wine tasting, attending concerts and enjoying the great outdoors of the Pacific Northwest. Along with husband, Reed, and Bernese Mountain Dog, Frank, Diana currently lives in West Linn.
---
Membership Director: Bee Talmadge – membership@jlpdx.org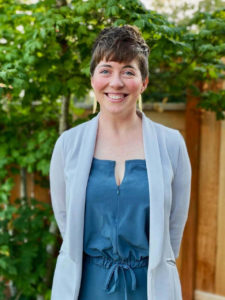 Bee Talmadge joined JLP in 2017 and has held positions as Technology Co-Chair (2 years), MarCom Committee member, and BIPOC Racial Justice Special Committee (BIPOCRJSC) member. Her experience includes: leading the League's efforts in bringing the General Membership Meetings (GMMs) to a virtual platform in 2018, representing the League at public-facing nonprofit information fairs and events, assisting in the setup of fundraising events, and supporting the past communications and program curation of the BIPOCRJSC. Bee endeavors to increase the approachability of participation for League members by leveraging technology to improve inclusiveness and belonging for all members.
Professionally, Bee has nearly a decade of catering and events experience. As a result of the pandemic, Bee has pivoted into the tech industry and sells risk and compliance Software as a Service (SaaS). She is an avid cook, Oregon Master Gardener, artist, and tech nerd. She lives in SE Portland with her partner Kevin and their cat Bonsai.
---
Community Director: Georgia Prim – community@jlpdx.org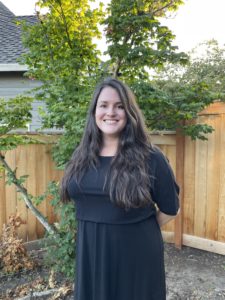 Georgia joined the Junior League of Portland in 2014. During her time in the league, she has been most active in our stop human trafficking efforts; co-chairing the Civic Engagement committee and SPAC. As Community Director, she aims to grow the league's presence and impact in Portland. She envisions the league stepping back into public action and advocacy again – knowing that this work can lead to powerful change. She cherishes the relationships she made in the league and the lasting impact of working with inspiring, female leaders.
Georgia graduated from Emory University with a degree in sociology and religion, and received her J.D. from Lewis & Clark Law School. Currently, she works for lululemon on the innovation team. In her spare time, she is a brand + strategy consultant for local small businesses. She also enjoys cooking, photography, and exploring the Pacific Northwest with her fiance, Aaron.
---
Sustainer Representative to the Management Team: Ann Blume- mgmtsustainer@jlpdx.org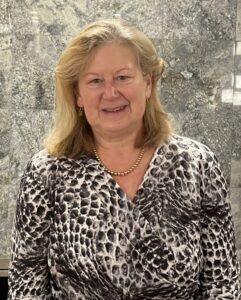 Ann Blume joined the Junior League of Los Angeles in 1988 and transferred to the JLP in 1990. Ann served one year on the board of directors and three years as an Officer (Treasurer, Recording Secretary & Administrative Vice President). In addition, she chaired the Provisional program, Done in a Day, Nominating and Cookbook. Ann was recognized as Volunteer of the Year, 1999-2000. 
As a Sustainer, Ann has advised the Board & President, served as Treasurer for the Rose Summit Fundraiser and as an advisor to the Treasurer.
Ann has served on several committees at the Multnomah Athletic Club (including Membership, Budget & Finance, Strategic Planning, Diversity Admissions Committees), along with a three-year term as Trustee culminating as Treasurer in 2014. Ann was recognized as the McAlpin Award recipient in 2019, which is presented annually to one member for outstanding volunteer service to the Club.
Scholarship review for the Multnomah Athletic Committee has been a particularly rewarding volunteer assignment.
Ann also volunteers with Hunger Fighters of Oregon and the American Red Cross at blood drives.
Professionally, Ann spent over 30 years in the commercial real estate industry, primarily focused on multi-family investment sales with CBRE, and asset management for two clients/investment managers. 
Ann has used her Junior League training in both business and community service endeavors. Lifelong friendships have come from the Junior League.
A native Californian, Ann first came to the Northwest as a student at Lewis & Clark College. A love of the outdoors is pursued through hiking, walking, cross country skiing and gardening.
---