About Children's Book Bank
The Children's Book Bank began when Founder and Executive Director Danielle (Dani) Swope decided to find a way to give the stacks of books her children had outgrown.  Inspired by her own experiences as a Teach for America teacher and a parent, Dani wanted to ensure that her children's books were available to other children who may not otherwise have books of their own at home.  She contacted a local Head Start program that was happy to receive her family's books and took her kids on a field trip to deliver them.  Within a week, her phone was ringing off the hook with people looking for the "Book Lady" and asking to sign up for her "program."  Clearly, the community had a need for books!  After a few pilot book drives, it became clear that the community ALSO had a supply of books to give.  The missing piece was a sustainable system to get the books off shelves and into the hands and homes of kids in need.  The Children's Book Bank was created to fill that void by engaging the community in collecting, sorting, and distributing donated children's books.
By engaging the greater community and working with local agencies to give children books to take home and keep, The Children's Book Bank supports early literacy development with four levels of beneficiaries: children, parents, literacy programs, and the community.
Since becoming a 501(c)(3) nonprofit in 2008, The Children's Book Bank has organized over 6,500 community volunteers to channel over 475,000 books into the hands and homes of over 35,000 children in need in the Portland area.
More information about the Children's Book Bank can be found HERE.
Donations to the "First Book" Campaign can be made HERE.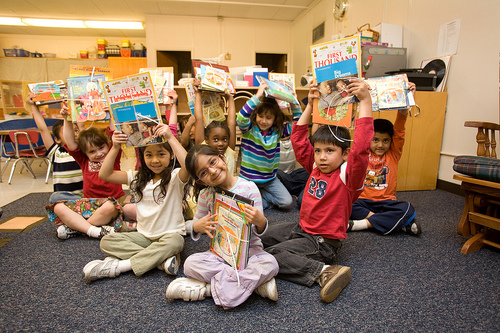 Recommended Titles
The Children's Book Bank accepts all new and gently-used books for preschool – grade 8. Because nearly 75% of preschoolers that The Children's Book Bank serves each year come from communities of color and/or English language learning homes, diverse and multicultural books are especially desirable.